My blog headers are usually photos that I have taken, but this time I thought I'd share with you one of my muses—Steve Hanks.
Early in our marriage, my wife discovered a small art shop in old town Fredericksburg, Virginia. We lived nearby and began to frequent this wonderful little art gallery. Over the years we collected a good amount of paintings from some of our favorite artists. But our absolute favorite artist and the one whose paintings cover the walls of our home is Steve Hanks. His water color paintings boggle the mind for realism and for the beautiful portrayal of family life and private moments.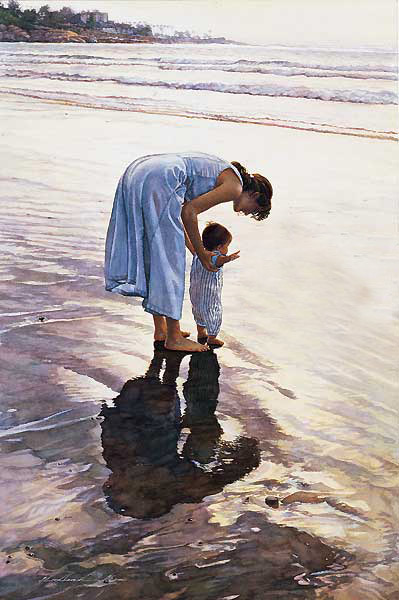 Steve's water looks so real you expect the painting to get you wet if you were to touch it. The fur on the cats and dogs in his paintings looks so soft you can practically feel it with your eyes. The women in his paintings exude strength and confidence while at the same time showing a rare feminine vulnerability. And perhaps that is the reason I like Steve Hanks' paintings of women so much. They remind me of my wife who has that strong feminine quality while at the same time being one of the strongest women I have ever met.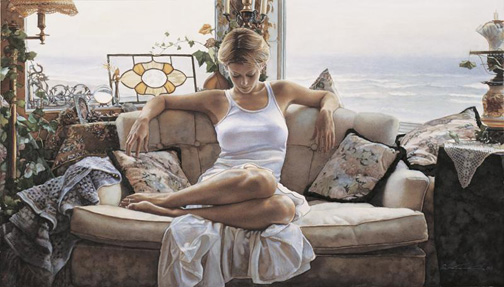 Hanks also uses lighting in a way that inspires my photography. He makes extensive use of backlighting—with long shadows falling from the surrounding trees through the foreground toward the viewer and the translucent fabrics picking up the brightness of that light. I have tried for many years to produce photos that evoke the same emotions as Hanks' paintings evoke. I have a long way to go, but it's a continual encouragement to my photographic vision and growth.